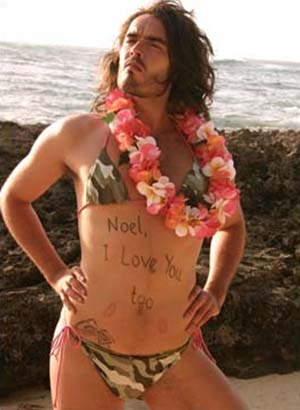 This is Russell Brand and he is a fucking douchebag .
I'm sure everyone can sense the gross shit that would eminate from someone who looks like this and has a nacissistic fascination with it's own creepy visage .
Anyone who has suferred through one of his grotesquely overprices shows know that all he "jokes" about is his weird fascination with his penis .
Due to the fact that he looks and sounds like a woman and mentions said part so much , I'm not convinced he's a dude at all .
Now why on Earth would I be such a shallow shit about all of this?
Seems the brain cramps over at MTV booked him to "host" the MVA's again during which (s)he discussed violating everyone in sight and a few who might be aliens but the piece de resistance is when Bearded Lady went into detail about the idea of drugging and raping Megan Fox . Classy .
MTV - you fucking suck for permitting this fuckwad to joke about this kind of behaviour in front of an audience that is comprised of teenagers . Even Ms. Fox was mortified by this . way to treat your young , talented stars .
Oh , and Miss Brand , I know you're British and all , but shave your pits you fithy cunt .