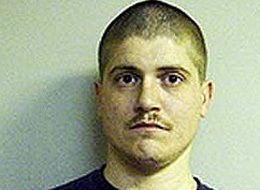 This is peckerwood retard Micky Mayon and he was wanted for over 2 years because he is a dangerous anti-government skinhead . While awaiting trial for being a drunken idiot , he thought it wise to torch the judge's car and flee the U.S. ....
But guess where the Jew-hating S.O.B. went ? Seriously , take a guess...
He somehow got a tourist visa and flew to ISRAEL .... yes the land of Jews and Muslims and other brown people that this douchebag publicly professed hatred for , figuring nobody would look for him there . Well , I suppose if you are a skinhead running from the Feds , it might be a wiser option than accepting the punishment due you . But , he got lonely and needed some lovin' and upon finding out that his JEWISH girlfriend was pregnant with his little Jew baby , he spilled the beans. Of course , the freaked-out mama called the immigration authorities and he is now waiting to be shipped back to the U.S. in an Israeli jail with the same kind of cats he preached hatred against .
HAHAHAHAHA!